How your company can become one of the dominant players in auto/P&C insurance organic-voice-search in 2022 and 2023.
Did you know your firm has a TV ad budget and PPC marketing funnel hole causing ad budget leakage?
IMM cleverly fixes your ad spend funnel budge leakage and plug your marketing hole to increase your overall ROI and ROAS. (Yes, I had to choose my words carefully on that line.)
Who wants to waste ad spend budget and hurt your ROI percentage when the fix puts your company so far ahead for several years.

Once your TV ad team and PPC ad team understand my clever funnel discovery, they will

LOVE

this new tactic since it increases their ROI/ROAS with no more effort on their part by plugging a little know funnel hole for companies that run TV and PPC ads.

Fix your highly expensive funnel leakage for fractions of pennies on the dollar.
All stakeholders will ENJOY the marketing, effort-saving, offensive marketing tactic, defensive marketing gambit, and ROI-increasing epiphany.
Better access to 6.5 million "exact-match" organic auto/P&C searchers "per month"
AND better access to just over one (1) billion "phrase-match" organic searches "per month" can catapult your company to the next level is only part of the solution. That's how good and effective this is.

Have them call me to what the funnel drain is and how to fix it for fractions of pennies on the dollars.

The focus is putting you far ahead in voice search to increase your TV ad, and PPC ad spend ROI AND increase your organic search ROI. Both at the same time.

PLUS, the better TV and PPC ROI/ROAS percentages.

Large Carriers

–

These numbers can consolidate a large carrier's market share as both a growth and defensive strategy.

Up and Coming Carries and Large Agencies wanting to grow fast

– 

These numbers can help an up-and-coming aggressive company rocket up the market share rankings by being dominant in the fastest going way consumers do their research online with voice search to increase your overall ROI/ROAS.

I will point the 340 ultra-high value voice-search domains to your new 340 hybrid landing page/micro-website to give the Google bots and your new customers what they are wanting.

My Story –

My SEO mentor worked with just the Fortune 5 in the mid-2000s and early 2010s and was one of the actual investors of voice-search which is the only reason you are reading this. He convinced me to start buying voice search auto insurance domains, so I did.

I was ten years ahead of the voice search curve in auto insurance, if I point all of these voice search domains to your new sites and teach your team our "Google-friendly best-practices" secret sauce, then your firm will also be ten years ahead of all but a few carriers.

Leverage this unique opportunity and put your competitors at a huge disadvantage. 

"The Fix Is In" | Organic Voice Search for Auto and P&C Retail Insurance
Set a phone meeting to see the full list, the secret sauce, and to see if this is a fit for your insurance carrier or up an coming national auto insurance agency. This works better for captive agent companies.
The IMM "The Fix is In" plan increases your ROI/ROAS on BOTH your TV Ad spend AND PPC spend for fractions of a penny on the dollar with focused and game-changing organic voice-search, mobile-search, and desktop-search.
Moreover, Our Google Friendly secret sauce at the same time increases the ROI/ROAS for BOTH your TV ad spend AND your PPC ad spend by FAR (millions per month) more than your tiny monthly total investment.

Better and focused access to 1 Billion Online Auto Insurance and P&C organic "phrase-match" searches "per month."
6.5 mil

lio

n "Exact-Match" Organic Retail Insurance searches "per month."

The Google-friendly hyper-best-practices white-hat secret sauce

All 344 ultra-high-value "Voice Search Centric" domains pointed to your company and your new micro-niche insurance landing pages

These are YOUR searches with the results owned by you

The voice-search "fix will be in" for you and not your competitors for several years – Prefect
Your job, my job, and Google's job is to make it easy for the Google bots for voice/mobile/and desktop searches and answer the searcher's exact question. That is "exactly" what this plan does. The more specific the user's question, the better it is for you.
For example, a parent has a problem. They see a bunch of insurance ads that motivate them to take action and do a Google search or voice-search on "cheapest teen insurance." Google sees your hyper-niche-focused micro-website as the most credible answer, and you get the click. Let me show you the secret sauce in detail.
Voice Search Centric – With Alexia, Siri, Google Home, and more, voice search is now one of the most coveted search platforms.
Keywords are great, but Google wants to decide ultra-fast on what is the most relevant answer for a retail insurance search.

Especially if it is a more focused question, that is where having voice search-centric domains with matching copy on an AMP micro-website puts many Google bot factors in your favor.

The math says, moving the needle by some percentage in your favor with 1 Billion phrase searches per month and 650 million exact-match related per month per Google to your 344 auto insurance high-value niche domains with relevant and recent copy is a recipe for long-term success.
My SEO Mentor – Because my SEO mentor worked with the "Fortune 5" and was one of the actual inventors of "Organic Voice Search."
My mentor convinced me to start buying voice search domains over a decade ago. It was easy eight years ago, but now it is more challenging.
That is the only reason I have acquired this list of valuable assets over time.

Leverage this unique opportunity to your direct advantage.

Since high-value domains are like commercial property, this opportunity is like your firm having a hotel on each corner and section in the game of Monopoly.

You can't lose and should easily win big. So, the "fix will be in" for you, your team, and your firm.
Check out this video to help you learn how Insurance Marketing Multiplier can benefit and the steps on how IMM brings value.
Yes, this is the market I want you to dominate for the next several years. The "fix will be in" for your company and your team.
Voice Search stat and quotes in 2022 (article by Jack Steward 12/5/21)
30% of web browsing in 2021 will be performed only by voice (Gartner)
One-third of the United States population use voice search features (Emarketer)
48% of consumers are using voice technology for general search queries (Search Engine Land)
Three-quarters of all US households are expected to own at least one smart speaker. (Microsoft)
29% of consumers leverage voice assistants to ask quick questions (PwC)
Mobile users are 3x more likely to use voice search. (Review42
400 million devices now support Google Assistant (Voicebot)
Mic Drop | Proof Above!!!
The domain king, Michael Cyger, confirms that:
The Exact Match Domain traffic
The CPC$ (real companies paying real money for the keywords)
and how many of the 11 max paid ad spaces are taken on the first two pages on a keyword domain name organic search the 2021 keys. 
Based on this you will be stunned when you see the data on my 344 insurance domain list that you will get pointed to your new landing pages. 6.5 million exact matches per month, Averages $16.18 CPC per domain, and your list commands over 3,100 paid advertising spaces. You get all this. Let's talk.
The IMM "The Fix is In" plan is a game-changer because:
IMM increases your existing TV Ad spend ROI/ROAS for a fraction of a penny on the dollar with little effort.

The result is FAR

more marginal profit than the tiny monthly investment.

Your TV ad team will love this because it increases their results with no more effort.

Your PPC Ad team will ALSO love this because it also increases their results with no additional effort.

It all works together in a coordinated tactical and strategic funnel plan. IMM increases your existing PPC Ad spend ROI/ROAS and most ALL of your other marketing efforts by the same fraction of a penny on the dollar.

In addition, most users trust their organic searches more than PPC – everyone knows that – so use both in a coordinated way to move the conversion ROI/ROAS needle.

The Bottom Line: the IMM plan patches (fixes) leakage of a little-known marketing funnel hole to increase your overall ROI and ROAS by capturing some percentage more of the organic online confused searchers looking to answer their specific insurance question or problem.

Even better, once you fix this, it is harder for your competitors to fix their funnel since you control the 344 domains, and you know the secret sauce. This is a no-brainer.

In ADDITION to helping your TV and PPC Ad teams,

344 auto insurance and P&C hyper-niche-topic micro-website online will generate leads by
better targeting 1 billion per month in auto and P&C insurance phrase-match searches
AND 6.5 million auto insurance exact match monthly searches.
Your new 344 micro-website helps pick up additional prospects that your ads generated and the prospects by the ads of your competitors by stirring the pot. Let your competitors complain to their bosses "that the fix is in."
So,

you have a better chance of cashing in on your ad spend AND poaching the ad spend of your competitors

by adding the IMM game-changing plan for organic voice-search, organic mobile-search, and organic desktop-search. Perfect.
Massive Returns | ROI XXX%+ | Low Risk | Low Internal Resources Needed | Partially Shuts Your Competitors Out for Years | Put your Firm Years Ahead with Organic Voice Search
Leverage our 344 valuable auto and P&C insurance domain names for ongoing massive profits enterprise-wide, a low initial investment, with a low-risk, cost-effective monthly service basis that more than pays for itself many times over.

Organic Phrase Search – Based on Google data as of 1/15/22, this list has just over (1) one Billion auto and P&C phrase-searches PER MONTH.

Organic Exact Match Search – Based on Google data as of 1/15/22, this list has just over 6.5 million exact match searches per month on the list. In addition, the list has many niche/longtail domains which convert better and faster.
Since 2011, I started and still own the #1 mutual fund directory in the world, with $4.8 Billion in yearly retail traffic value on the site each year. So, I have proven I can and know how to rank websites in billion-dollar financial niches.
Your TV ad team will LOVE this since it increases their ROI/ROAS for fractions of pennies on the dollar.
Their TV ad spend does its job of branding and stirs the pot in the market as it should.

So, now a percentage of the prospects are now confused prospects who like your message but have not converted.

What do confused prospects do?

They go online and start with their Google organic searches.

If your organic voice search, mobile search, and desktop search game has a better micro-website that answers their questions, then you have a better chance of them filling out your form and you getting the lead.

By you answering their exact niche questions, then that increases your conversion rate which increases your ROI/ROAS.
Your PPC ad team will LOVE this just as much as the TV team.
This plan helps both at the same time.

Paid Search will still create the most revenue.

Since this plan has theoretical conversion upper limits, your new voice search domains will be your most profitable retail insurance marketing channel.

You should expect ROI/ROAS in the high double digits, triple digits (500%), or even triple digits.

The combination of this plan and assets will make your organization millions per month in net new revenue.
Once this plan gets fully up and running, with a billion phrase match searches, more importantly, 650,000 exact match retail auto insurance searches per month, your call center and outside sellers should close millions of extra business each month.
You will have this "cash cow" in place and your competitors will not.

To save capital that gives you a monthly ROI in a few hours in the month, we will point ALL of these domains to your website(s)
Set a meeting to see the whole list with totals and the stats just click on the set up a quick meeting and I will gladly review the list with your or your team.
The Plan
Phase I
Sign up and we will point ALL 344 of the domains to websites you specify on day 1. This will help the SEO on these websites.
Based on my analysis, out of the 1 billion monthly phrase match searches AND 650 million exact match searches per month.

If you can create just less than (1) extra median three product sale per day enterprise-wide, this service pays for itself I Phase I.

The money and massive ROI% is in Phase II and Phase III.
Phase II
I will train, advise, consult with your SEO team to quickly and efficiently develop micro websites via contractors on the list of domains, including an ongoing third-party content plan.
Your team manages the contractors for micro-website development, the art, the content creation plan, ongoing website maintenance, and stats analysis.

I have a good plan; however, we always have to be aware of Google changes.

The secret sauce uses "hyper" Google "white-hat" best practices.

Our plan takes Google best practices to the extreme
Phase III
I will consult with your team one day per month, as needed. Based on Goggle's history, I will take your mid-tail micro-website with the niche domains about a year to kick in using Google best practices.
The niche/longtail micro-website will take less.

The short tail domains will take longer to increase your percent of traffic gain.

This is Google's world – we just live in it.

Our job is to make it easy on their bots and answer the searcher's exact question.
We need a Champion | Is this for you?
At your insurance company, it is always good to be on a team with the highest ROI/ROAS in the company for bragging rights and job security.
Once this is set up, this project will be a low-effort cash cow.
On a day-to-day basis, your team will be

managing contractors for content creation,

reviewing the productivity of each micro-website,

and meeting with me monthly as a resource for tips and tactics as a profession with a vested interest in your success.

If you outsource this to an ad agency, it will work the same.
Click on the link to set up a call, and I will send you the full proprietary list with the data per domain as of 2/15/22.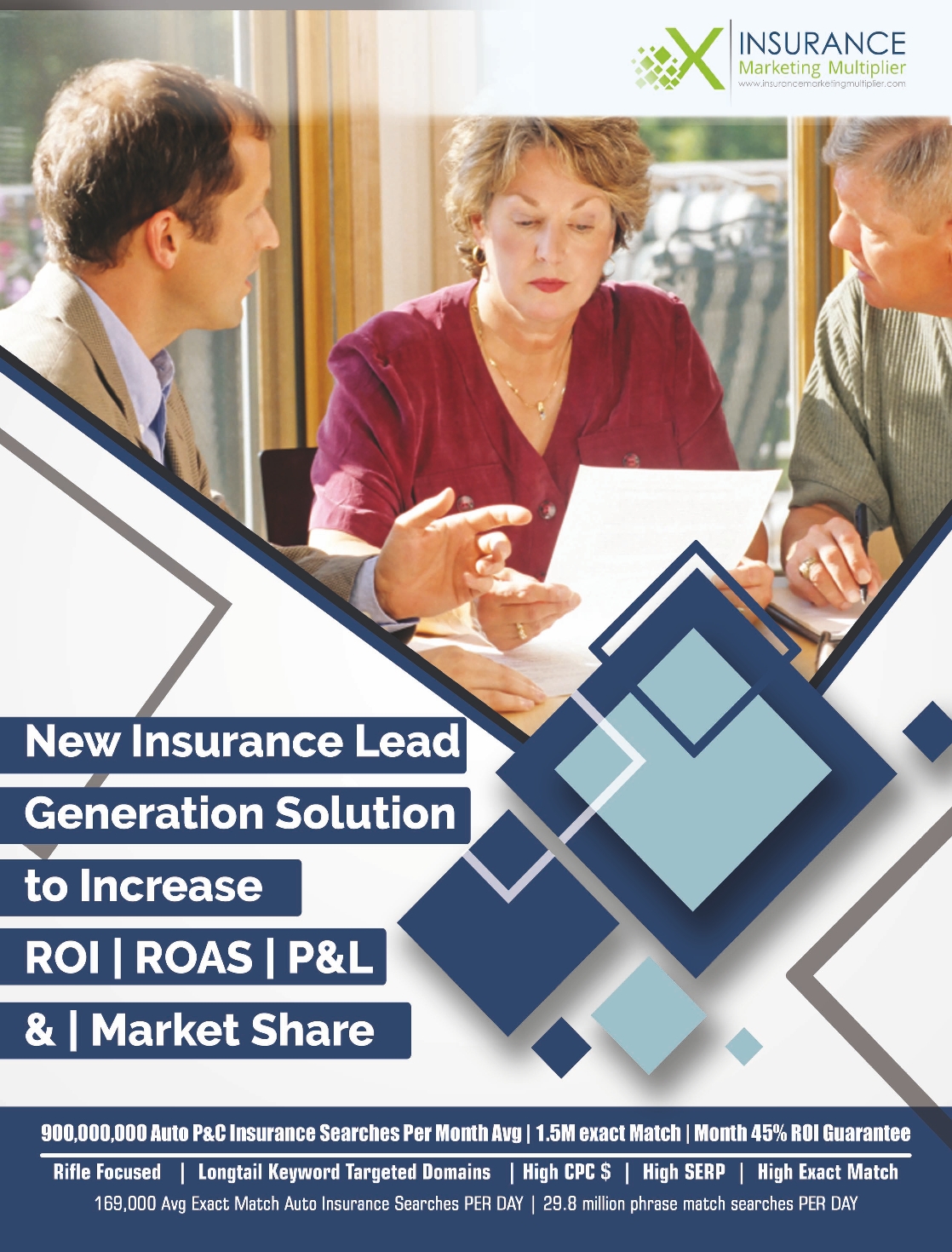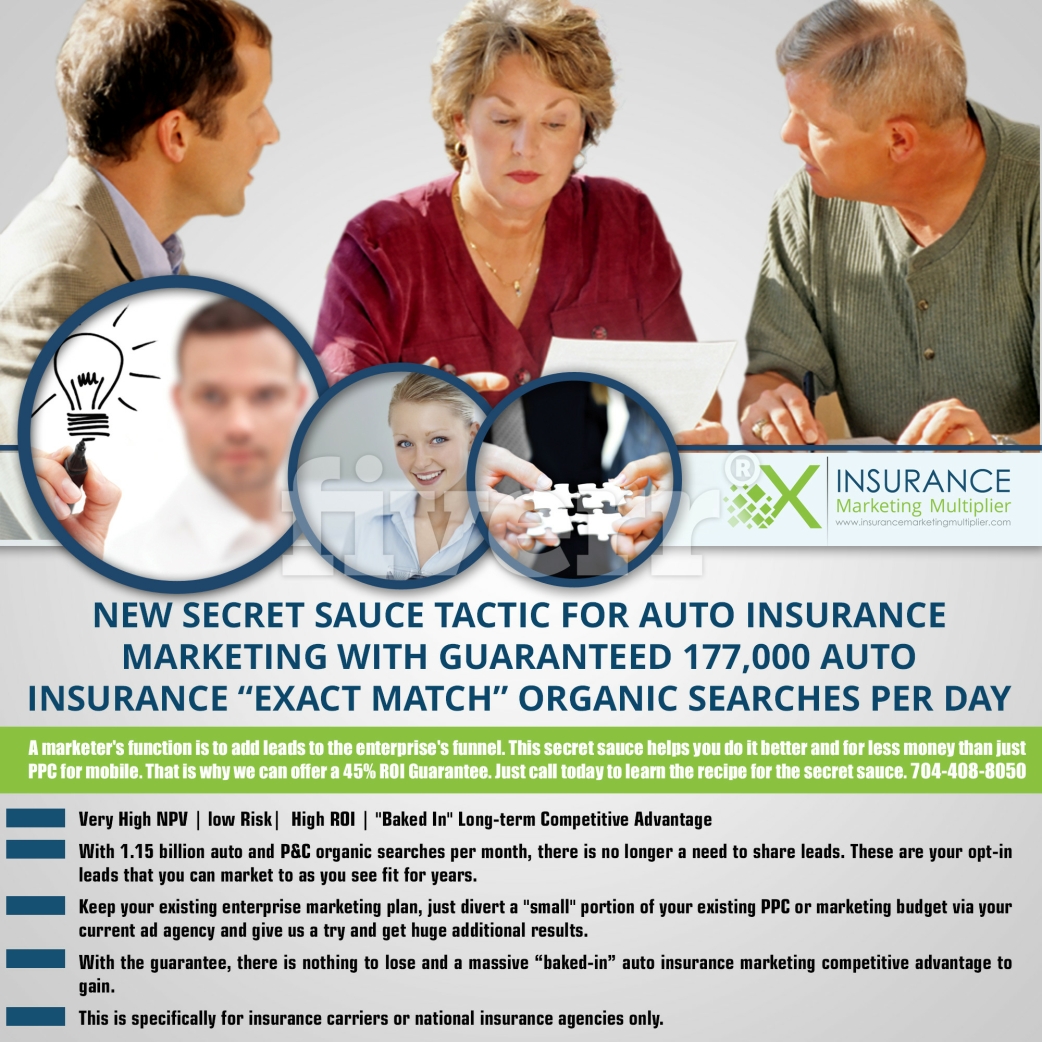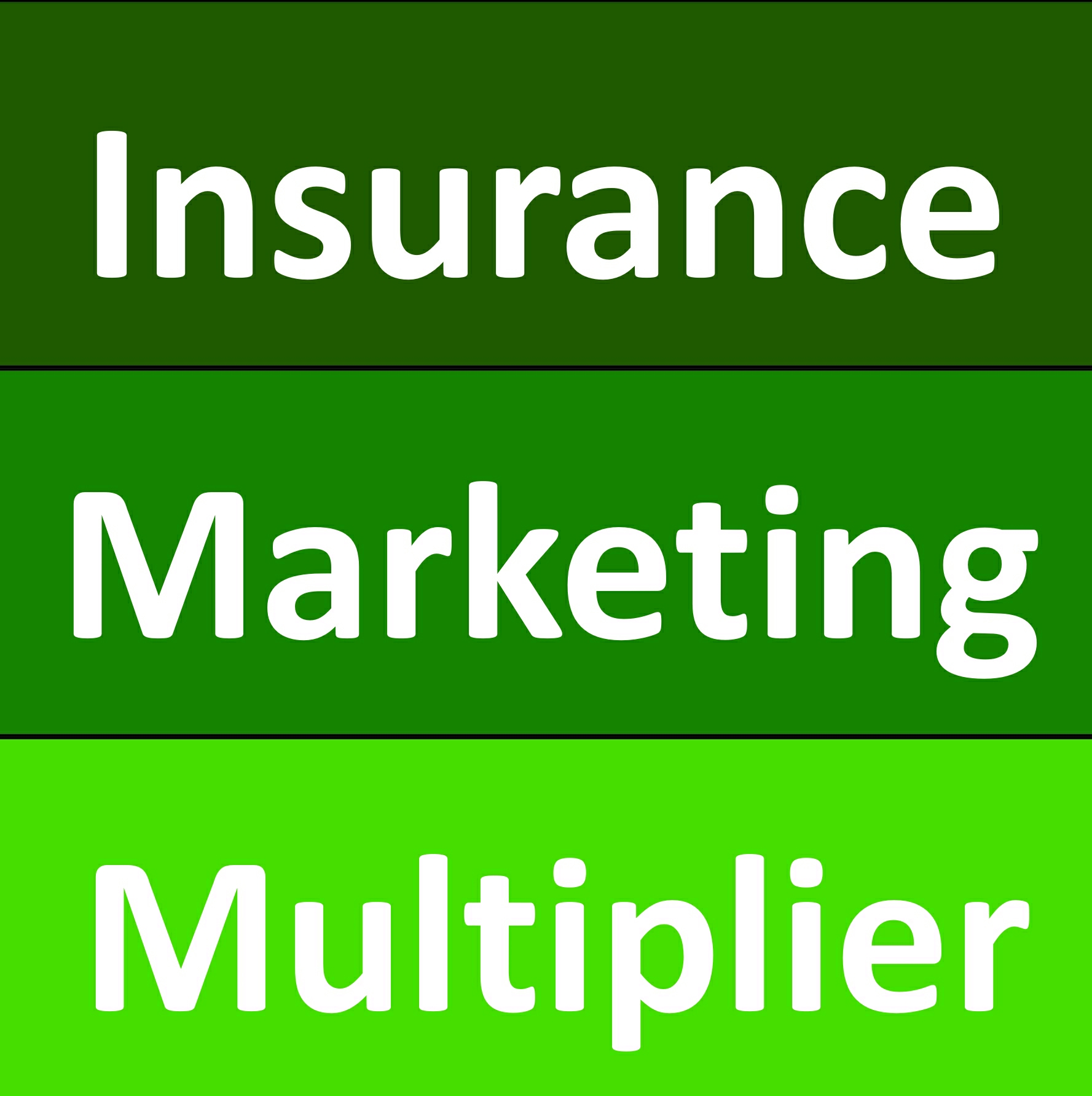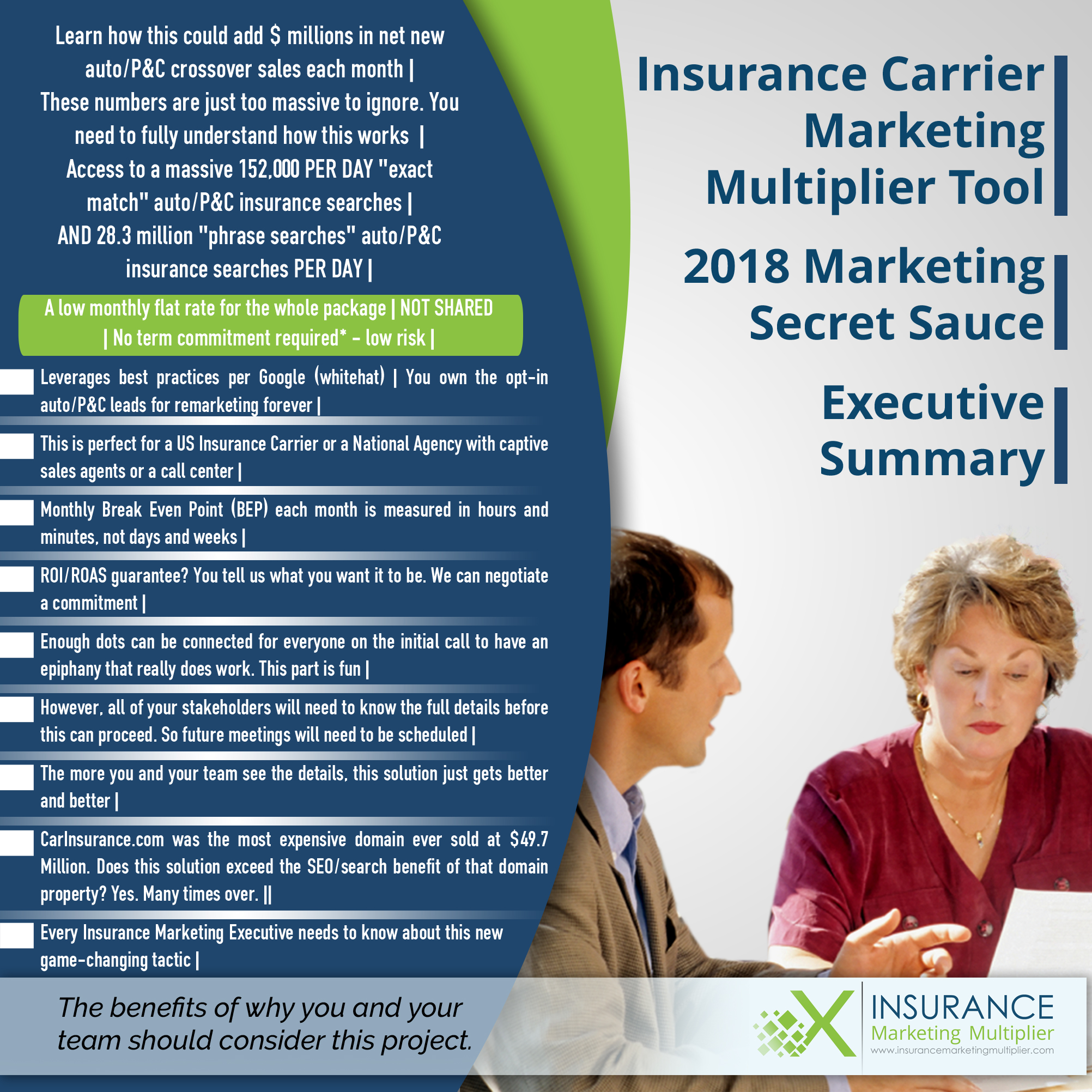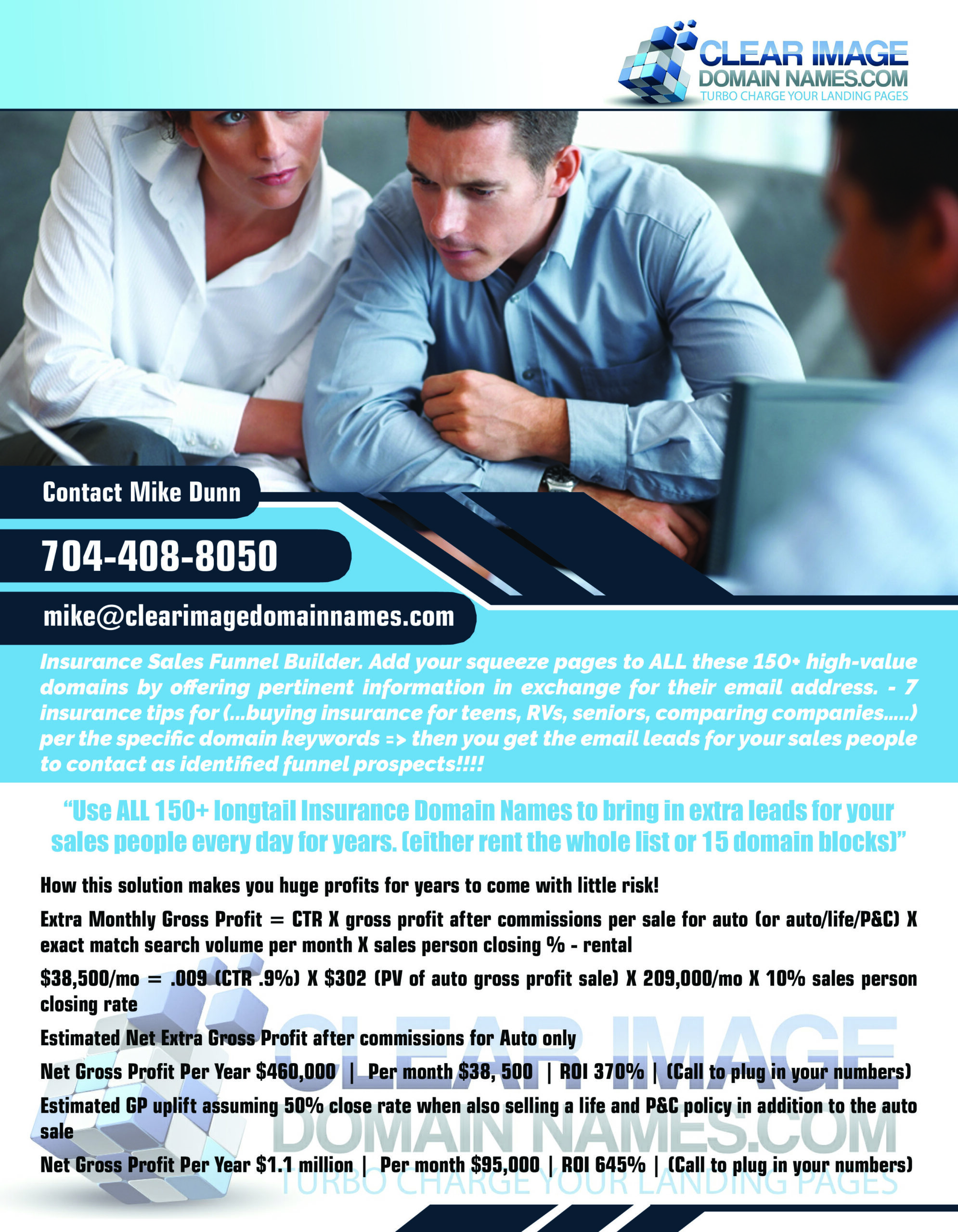 What is the most expensive domain name ever sold and how much $?
Why is this important to me and my company? Here's why…
www.carinsurance.com was the most expensive domain ever sold at $49.7 million.

www.car—insurance.com has about the same organic search value.

www.car—insurance.com is just one of the 344+ domains included in your package. 

Credibility – Easy Proof in five (5) seconds.
Below is 100% Proof I can get landing pages ranked in a billion $ industry by following Google's recommendations. Google will tell you what you need to do, you just have to listen and do what they say. It works.
First of all, I'm the king of my niche in the mutual fund directory. I've been #1 in the world in organic ranking since 2011. In the past 12 months:
From January 2021 to March 2022, I have had $5.3 Billion in business traffic value on my single mutual fund company directory website with 47,000 unique users in retail investors and brokers and 52,000 sessions. So, I know what I'm doing. I can help your company also.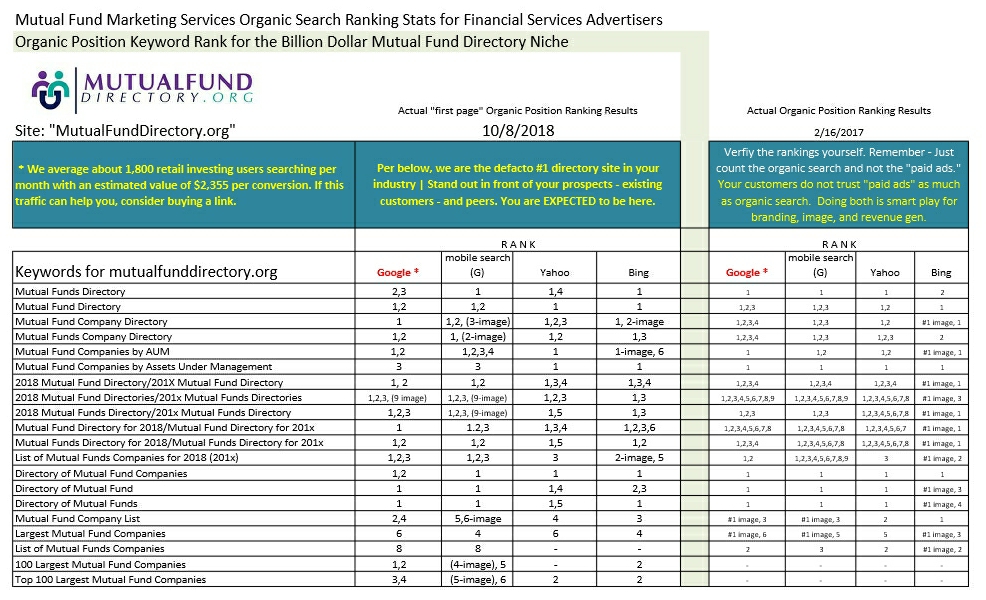 The Bottom Line | Your Insurance Marketing Epiphanies 
This solution is moderatly complicated. It is like checkers vs chess.

The dots do readly connect and this can make your company extra millions per month with realitivly small resources. Meaning a large ongong ROI.

Some people my never really understand, but as long as it is making the firm extra ROI every month they may not care.

However, when you see how the dots do connect, you will smile when you get your empahany.

Then you can help other see the value have their empahany, that is long-term projects get started.

IT DOES WORK AND IT CAN MAKE YOUR COMPANY EXTRA MILLIONS PER MONTH or you can cancel.

It starts with you and I talking and reviewing some information so you can see the value proposion, the value to your organization, and how this works.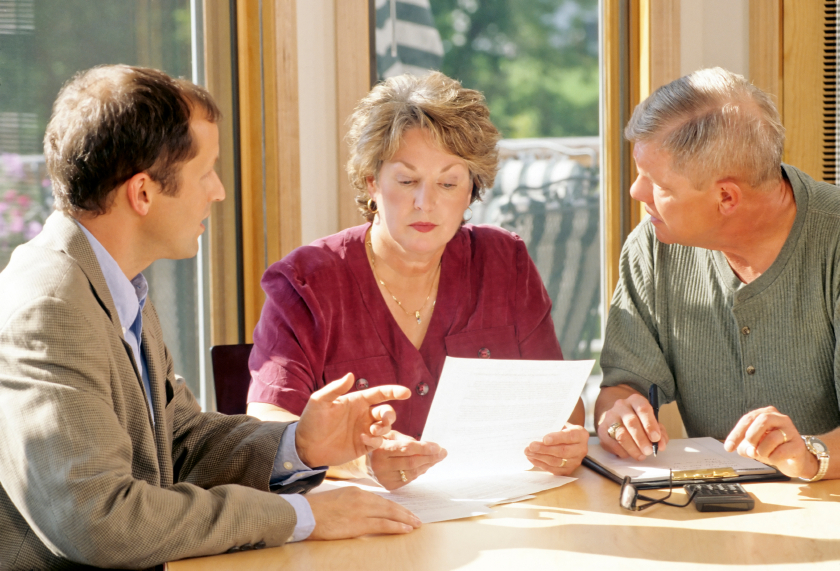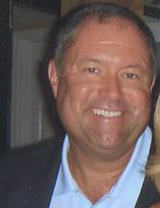 Mike Dunn
Thought Leader | SEO Expert